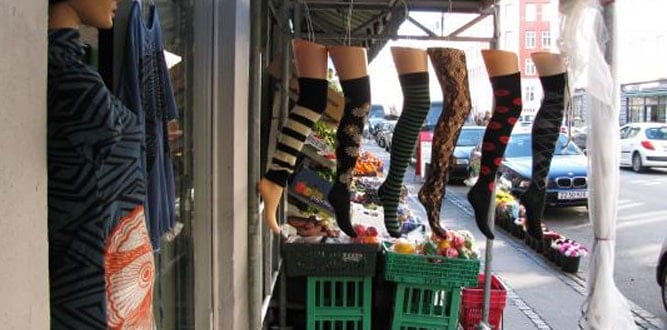 Shopping in Vesterbro
Busy and vibrant Istedgade

Shopping in Vesterbro inevitably involves shopping in Istedgade. Right at the intersection with Gasværksvej, the "naughty" end of Istedgade surrenders to stylish design shops and trendy cafés along side immigrant greengrosers, buthers, and haircutters.

Footwear and vintage designs
 
Start your tour at number 43, where you will find Hornecker, a specialist in exquisite shoes and boots of unmatched quality.

On the other side of the street in number 56C you'll find Dixie Grey, a wonderful vintage design shop with clothes and jewellery in the best 50's style.

Scandinavian and Danish fashion and design

Donn Ya Doll at 55, Istedgade, carries a large collection of Scandinavian fashion designs, including Finnish Nanso.

DANSK is the name of a small clothing boutique at no 64 and a shop featuring interior design and furniture at no 90. Both excell in minimalistic Danish design.

At no 99 you'll find the concept store for Icelandic Birna.

Retro Heaven, kitchen utensils, and toys

If you're looking for retro things, you must pop into Funky Junky in number 84B. Here is all the funky 60's stuff you could wish for - from lamps and mirrors to coffee cups and thermos.

Continue your shopping spree to Girlie Hurly at number 99. This delightful place is loaded with jewellery, lamps, retro kitchen utensils, and stunning bric-a-brac.

For exciting toys continue to Kusine Bodil 10, Enghave Plads. You won't regret!

Need coffee?

Go window-shopping and find your own favourites among the many intriguing boutiques. If you need a break between shops, ever-popular Bang & Jensen at number 130, or Riccos just across the street at number 199, both serve expertly brewed coffee, they play some fine music, and if you have a sweet tooth, you have come to the right place!

Or try the tiny little combined coffee and vinyl record shop Kaffe og Vinyl just round the corner in Skydebanegade.